Welcome to the Tidings!
September Calendar
September 5 – Morning Devotional & Worship
September 6 – Labor Day
September 9 @ 5:30 pm – Council Meeting, ESC and Zoom
September 12 – God's Work, Our Hands Sunday
September 12 – Morning Devotional & Worship
September 18 @ 7 pm – Faith in Film, Poolside at the Alvarado's
September 19 – Morning Devotional & Worship
September 21 @ 9:30 am – Ruth Circle
September 22 @ 5:30 pm – Social Statements Study
September 26 – Morning Devotional & Worship
September 29 @ 5:30 pm – Social Statements Study
Pastor's Note
"I can't think of anything more rewarding than being able to express yourself to others through painting. Exercising the imagination, experimenting with talents, being creative; these things, to me, are truly the windows to your soul."~ Bob Ross
Recently I have rediscovered Bob Ross's the Joy of painting, a series that aired on PBS for 11 years. I always found this particular series to be a calming and happy experience. And while watching the show I realized in many ways that the way in which Bob Ross got his message across about painting, is very much in line with the message of Jesus. There is a sense of gladness in the work and it is never perfect, even when Bob Ross would make a mistake on any of his paintings, he would simply say it's a happy accident. In saying that line "happy little accident" there is an element of incredible grace, even when there is a mess up. And that is the way that God operates with us, when we create a "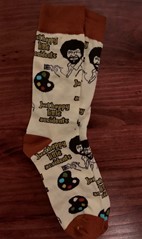 happy little accident" God meets us with amazing grace, and essentially tells us to keep on going. Our life in Christ is like a beautiful canvas that we are constantly creating, every learning moment is a brushstroke on the canvas to bring color and depth, and even when the paint brush slips and does not go the way we intend it, those are the opportunities to know that God has grace for us and therefore we should have grace for one another even when we make "happy little accidents." I even bought a pair of socks that have the statement on them the other day, it has the phrase "happy little accidents" with Bob Ross with a paint pallet. It's just a nice reminder that even in life when mistakes happen, God always has grace for us and therefore we should take comfort in knowing that truth and extend that grace to others. Perhaps showing grace is a way in which we can express ourselves, and show our souls to each other, which are grounded in God's love.
In Christ,
Austin Nickel
COVID Update from August 27
Galatians 6:9-10: So let us not grow weary in doing what is right, for we will reap at harvest time, if we do not give up. So then, whenever we have an opportunity, let us work for the good of all, and especially for those of the family of faith.
Dear family of First Lutheran Church,
After watching the Mayor's conference Wednesday morning, I am extremely concerned for our community and the well-being of ourselves and our neighbors. With the Delta variant on the rise, I find it extremely important to be listening to our leaders in the community and do what we need to help what seems to be turning into a crisis situation.
The hospitals are filled to overflowing and on the verge of system collapse. With these realities right now, we must do what we can to protect one another and make decisions that reflect care.
If you have not received the COVID-19 vaccination, I urge you to go and get it, the Pfizer vaccine has just been approved by the FDA and is proven to lessen the severity of getting sick with Covid. While even vaccinated people can spread this and develop breakthrough cases, I also ask that we take precautions, wear a mask, and make decisions grounded in common sense and love. I say these things out of a place of concern and care, and not a place of political movement, or distrust in the Lord, there are just so many things that we still do not know about Covid 19. Now, with the new Delta variant, we are called to do what is right for neighbors as it says in the Galatians text.
Church leadership is watching the data daily from the city, Baylor University, and the local schools. Early next week, we will evaluate how the community is doing and consider if we need to make any changes to our worship services or other gatherings. No decisions have been made, but if any alterations to our schedules should occur, announcements will be made. Please stay in touch with us; your input is welcome.
The day will come when this whole crazy season will be over, and we look forward to that day. And hopefully if people do the right thing and watch out for one another maybe we will arrive to the better days that much sooner. Just keep your faith, keep praying, use common sense, get vaccinated, and keep holding on, we will get through this together. And through all of this God is indeed with us. As tired as we are right now, let's just keep moving forward, better days are ahead. Keeping you in my prayers and sending love and light to you all.
In Christ,
Austin Nickel
Announcements and Updates for September
Sunday Morning Devotionals
Starting on September 5, we will have congregational devotionals Sundays at 10 am. This time will include hearing faith stories, scripture sharing, and how God is at work in our lives. Austin will be kicking off the Sunday Morning Devotional Series sharing on the 5th, hope to see you there!
Faith in Film, Poolside Edition
Make a splash with us as we watch the film Luca on September 18 at 7 pm, at Jim and Dawn Alvarado's pool at their home! We will have snacks and beverages to drink, you are welcome to swim if you like but are not required to, and chairs are available as well. After the film we will have some discussion on the faith elements in the film. If you plan on attending let Austin know.
God's Work, Our Hands Sunday
This year's God's Work, Our Hands Sunday will be on September 12. The project is to be announced. Wear your God's Work, Our Hands t-shirts this day, and if you would like to purchase one contact the church office.
New Study: the ELCA Social Statements
Join us September 22 at 5:30 as we begin a new Wednesday night study series discussing the different social statements that the ELCA has adopted over the years. Through this process, we will be exploring how our congregants currently feel about these policies and how they impact our lives. Each week we will read the brief summary before meeting which you can find here at the ELCA Website (you are invited to read the statements in their entirety if you like, but we will use the summary as a guide for discussion.) Please let Austin know if you are participating and if you need the documents printed for you. We will be going over them in the order they were released:
September 22: Church in Society (1991)
September 29: Abortion (1991)
October 6: The Death Penalty (1991)
October 13: Caring for Creation (1993)
October 20: Race, Ethnicity, and Culture (1993)
October 27: Peace (1995)
November 3: Economic Life (1999)
November 10: Health and Health Care (2003)
November 17: Education (2007)
December 1: Human Sexuality (2009)
December 8: Genetics (2011)
December 15: The Church and Criminal Justice (2013)
December 22: Sexism (2019)
Altar Flower are Back!
Beginning in September-December the altar flowers will once again be placed on the small tables near the altar. The sign-up sheet for these months is on the bulletin board in the chapel. Now you have the opportunity to acknowledge special occasions such as anniversaries, birthdays, births, deaths, etc., and in memory of loved ones. The month of September is filled, but there are plenty of opportunities in October through December.
The cost of 2 arrangements is now $40 (including delivery) and is payable to Sandy Geier, FLCW Treasurer.
Lutheran World Relief Project
The School Kits Project will begin in July and will continue through September. You can donate as many or as few supplies as you like. Cash and check donations will also be accepted and used to purchase specific items to complete additional kits. Please bring your contributions to the ESC Chapel on Sundays and give them to Ann Pierson or Bettye Spears.
Those items include:
Notebooks (70 sheets of wide or college ruled paper, 8" x 10 1/2 ": no loose-leaf paper)
Rulers (centimeters on one side and inches on the other)
Crayons (box of 16 or 24)
Pencil Sharpeners
Pencils (unsharpened #2 pencils with erasers)
Ball Point Pens (NO gel ink)
Erasers (about 2 1/2" long)
Scissors (blunt, safety scissors)
Backpacks
Cash and Check Donations
Your support and contributions of these items or cash donations are so greatly appreciated.
Projects & Services
Ann Pierson and Bettye Spears
Notes:
Prayer Requests: Family of Gail Parrish
Birthdays this month: September 2- Sharon Hunt; Sept 3- Larry Bates; Sept 8- Jim Kersey; Sept 13- Haley Peebles; Sept 14- Brailey Holecek; Sept 17- Clayton Squyres; Sept 17- Michael Squyres; Sept 18- BJ Edwards; Sept 27- Kristine Hughes; Sept 28- Fallon Bain; Sept 30- Christi Coker; Sept 30- Ann Pierson